Parrhesia Berlin
Parrhesia: School of Philosophy, Berlin e.V. is a non-profit teaching and research organization devoted to the public practice of philosophy. It is a proud chapter of the Melbourne School of Continental Philosophy.
All comers are welcome: our courses and events have no entry requirements or assessment.
Upcoming Courses
Parrhesia's inaugural series of 3 courses begins 3 May! This first, Spring School, titled Our World to Come, elaborates various philosophical operators to discern transformative processes in the present. Each of these courses delves into political, therapeutic and artistic ways of thinking that, beyond today's planetary divisions, bear the brightly burning dreams of another world. What processes can we affirm beyond these negative splits—between those who belong and those who don't, between the west and the rest, between the self-proclaimed democracy of states and totalitarianism? While humans are killing humans, and governments spend on weaponry as if there is no tomorrow, it further collapses an already devastated environment—will there indeed be a tomorrow? These courses do not dwell on the theme of the end, but rather embrace emancipatory pasts and presents for forging 'a world where many worlds may fit'.
The Spring School runs for 5 weeks from 3 May through 2 June. Each course is 10 hours in length. These are hybrid courses. Please register as soon as possible as in-person places are limited. Each session will be recorded and made available to those unable to make the schedule.
A series of week-long courses are being prepared for late July and will be announced shortly.
Parrhesia's courses allow for a wide variety of subjects extending from film theory to the history of philosophy, from theories of technology and art to contemporary political concerns. By offering the option of doing multiple courses for only a little more than the single course price Parrhesia encourages students to broaden their experience of different philosophical traditions and themes.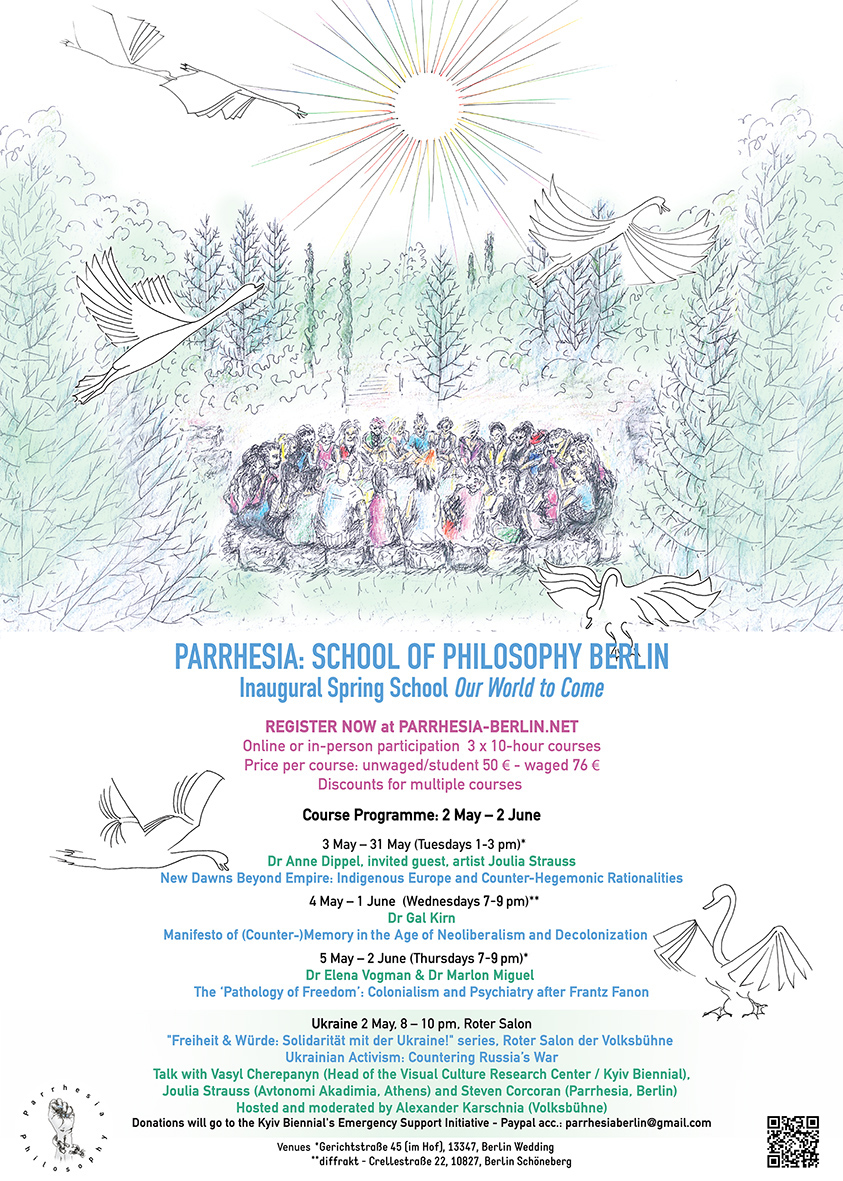 Information for participants
Photos may be taken at Parrhesia events and subsequently published on the website; the consent of participants is presumed. For more information about the courses see the enrollment page.